Urban Outline Building Group, incorporated in 2008, is an award-winning commercial construction and management firm specializing in high-end, modern, unique tenant fit-up spaces in line with current workplace demands.  We are positioning ourselves as the number one Canadian choice for office renovations.
Based in Toronto, Canada with projects spanning coast to coast, we are committed to our clients, their vision, our environment, our community and our employees. Urban Outline Building outside the box.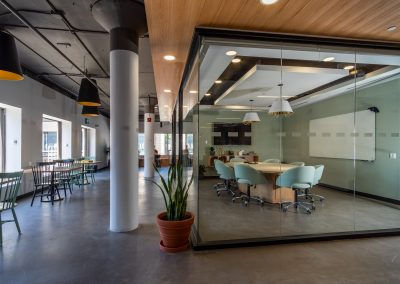 Urban Outline has partnered nationally with SPACES. This upscale Yorkville location features designer meeting rooms, a spacious and open business club and private offices.
"Our midtown build-out was extremely time and budget sensitive. Urban Outline managed everything from architectural and building code issues, right through to the final touch ups. They were responsive and professional during the entire project. The result was a world class office space, on time and on budget. By far this was our best build-out experience to date."
Andrew Libera Owner Intelligent Office Midtown Toronto
"Craig played a large part in the success of our projects. He worked closely with architects and engineers, managing on site work, meeting with inspectors to pre-delivery inspections and handover to clients. I would happily recommend Urban Outline Building Group Ltd."
Les Mallins President Streetcar Developments Inc.
"Urban Outline has become a valued partner handling our office build projects for the last several years. They have consistently exceeded my expectations with regards to the quality of work and finish, deadlines and budget. Even on larger projects with very tight timelines Urban Outline has been able to professionally manage the drawings/permit stages and all aspects of construction making the experience turnkey and seamless."
Randy Comish Vice President Central Canada